Poker Face. A 964 Restoration.
2021-01-22
Transforming Woron: A 964 Carrera 4 Restoration Journey
In the realm of classic cars, our story begins when my friend Rafal urged me to acquire a selection of classic models, including the captivating 964 Carrera 4. Initially, Rafal had no plans to keep the car, leading to its acquisition by the enthusiastic new owner, Tomek. However, the journey was not without challenges, with the alternator belt breaking and various mechanical issues surfacing during Tomek's initial drives.
Woron - Unveiling the Russian Crow
Dubbed "Woron" (Vo-ron), meaning crow in Russian, the car's nickname evolved into playful variations like "Worończyk." Naming our vehicles is a tradition, and we encouraged Tomek to embark on a rebuilding journey. Our vision was clear - maintain a stock appearance while enhancing the engine and suspension for optimal performance.
The Grand Opening: Unveiling Potential Upgrades
Our meticulous process involved dismantling every component, revealing a need for more metalwork than anticipated. Past accidents had left poorly repaired areas, prompting the reconstruction of the right front member and replacement of panels, including the trunk floor. Despite challenges, the quality of metal parts in the 964 generation allowed for effective restoration.
The car underwent a sleek transformation, receiving a fresh coat of black paint, protected by a high-quality self-healing film (PPF).
Empowering the Engine: More Power and Smart Upgrades
While the engine performed well, we aimed for more power without breaking the budget. Opting for a 3.6 cylinder set, we incorporated smart upgrades, including an RS light flywheel, 'hot wire' MAF sensor conversion, DME chip upgrade, and a Fabspeed full exhaust system. These enhancements elevated the engine's output to around 300hp.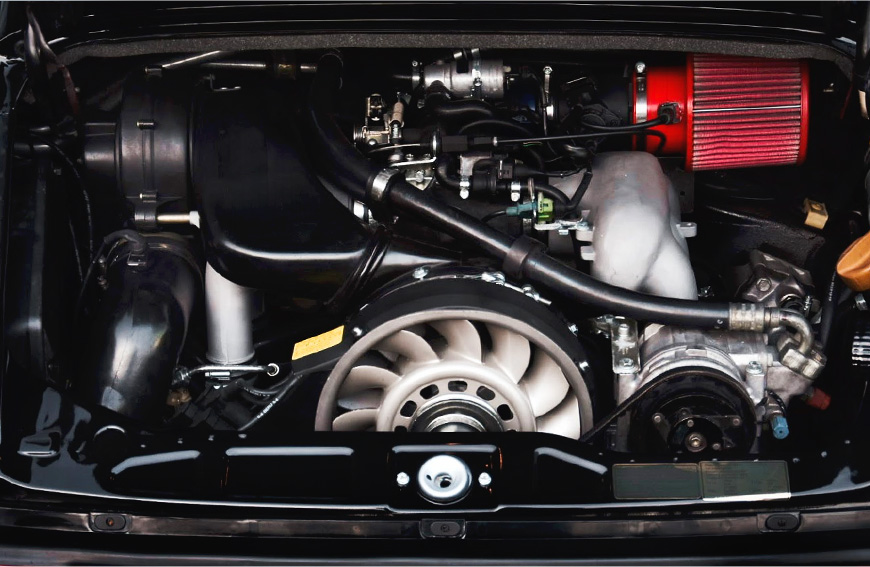 Perfecting Suspension and Wheels for Cornering Excellence
Recognizing the greatness of the 964 suspension, we implemented a winning combination of Bilstein B6 shocks, H&R springs, and precise wheel alignment. The Fuchs wheels, reminiscent of classic G-model style, added a touch of modern class, despite the different offset.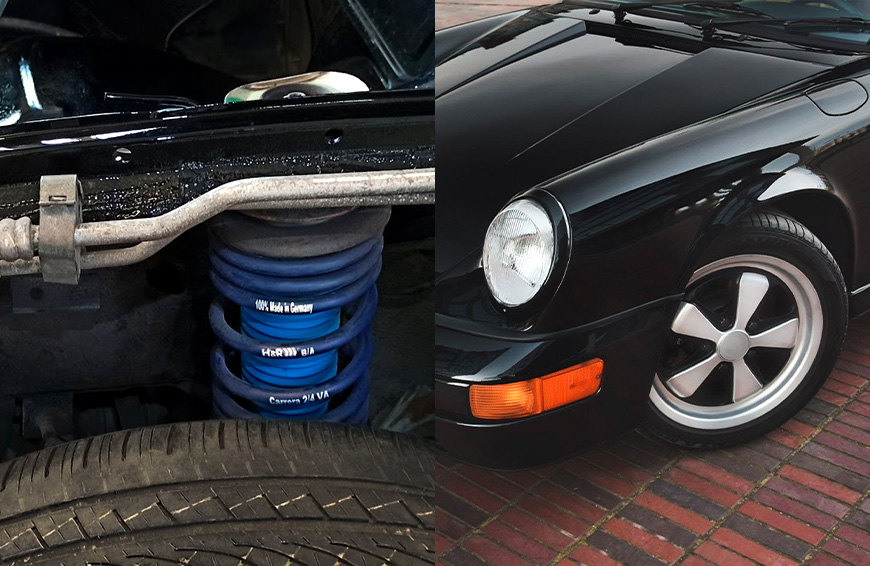 Elevating Interior Comfort and Style
The beige stock interior with sport seats received subtle upgrades, including a Momo Prototipo steering wheel, Rennline floorboards, a custom gear knob set, and R style lexan windows. An invisible Bluetooth audio system and a stereo delete panel concealed the radio hole, offering a clean and modern touch.
Tempting Details: Poker-Inspired Surprises
We didn't stop at performance and aesthetics; we added tempting details for a personalized touch. RS air vents, originally functional in 964 RS for brake venting, were made functional in Woron. Poker-inspired surprises included customized gauges with royal flush scaling and a unique fuel bib adorned with cards icons, delighting Tomek, a poker enthusiast.
In the end, Woron's restoration was more than a project; it was an exhilarating journey resulting in a thrilled and satisfied owner. Woron, the Russian crow, is not just a car; it's a masterpiece that embodies the fusion of restoration expertise and personalized detailing.