There are nine million rusty spots in Beige-in. A classic 2.7 Targa from 1975.
2021-01-09
Surprise.

That European '75 skinny 2.7 was delivered as an easy restoration project. The goal was to keep it as original as possible. Copper Brown Metallic (paint code 432) is one of the best factory colors. Unfortunately the car was resprayed using cheap paint and labor. Seals were mostly sprayed too. Way off the legendary Porsche quality. 
The idea was to keep it original and save as much as possible. But nobody knew what to expect under the 40 years-ish layers of paint. We needed to strip it all to bare metal. Porsche started zinc coating in 1975. First production years were tough for the company. Consider the 2.7 generation as a learn-how-to-do-it one. They used the bottom half galvanizing. The SC was better. And every next generation was better and better till the 964 when they achieved the goal and made a great zink coat.
Our car was produced as one of the first ever zinc coated Porsches. We found a lot of rust in typical spots like the battery, A pillar, B pillar, door air vents, windshield, targa window area.
As I mentioned the idea was to keep it original but we decided to respray the whole car. We found a great opportunity to change the color. We suggested some color options and the customer requested for beige. There's a beautiful color coded as 6607 that was used for 1966 – 67 F-models and 912. The customer liked it a lot. That decision changed the project from a standard rebuild to something we love the most, a customized classic.
The car drove perfectly. But we found some metal shavings in oil and standard to that generation oil leaks. The customer was sure the engine was perfect. The major damage was a question of time. We decided to open it and fix everything at once to make the customer happy for the next 40 years. More than we expected. All six cylinders and pistons were barely dead. We needed to buy and install new ones. Bearings, clutch and a lot of trifles to make it work better than stock. Worth mentioning, we rebuilt all brakes. What is interesting, there's no brake master cylinder in early 2.7. 911S with more power were more efficient. We noticed the standard 'not S' with 165hp brakes good enough. 
Brake pads, discs, shocks, all seals  were changed to new ones. Bolt and nut restoration. No custom solutions regarding the technical part of the car. Just some tricks we use to make it stronger.
Putting everything together:
Dismantling all parts  is easier than putting everything together. It literally takes forever. And it's impossible to do it in a different way. All parts need to be installed in the right order. A wire harness set is the last thing you take out and a first one you install in a chassis. We used an old one because the condition was great. 
We never use old insulation pads. The car becomes quieter with new solutions. Moreover, they weigh less. We put a few types of sound deadening mats to keep the interior as quiet as possible. It's important to enjoy the audio system and to feel comfortable in the car in general. 
We lowered the car a little to make it look better. It's super important to end it up with a perfect alignment. Not many shops know how to do it right. We know that's why our cars can take corners a little faster.
The customer requested for a custom made tail light we made for Yoda. We did it once again using the original part painted to the body color paint. We installed original gold letters on it. 
The last step was to put all the technical stickers and plates. We made a paint plate with a new color code too. What is important, we punched numbers using the correct font. 
By the way, notice the sticker on a windshield. The mirror mount doesn't look nice. Not anymore. 
The interior:
Seats needed reupholstery. We used original leather in the original, right color. Central parts of seats contain perforation. Not many know it's not possible to buy perforated leather. We made it using the original diameter and spacing between holes. 
The carpet set looked tired. We made a new one using correct fabric and lining. We used the same fabric to make a custom trunk mat based on our design. It makes the car unique but meanwhile it looks super right. 
Instruments were fully restored. We recommend to not miss that part. Even great looking gauges can be problematic.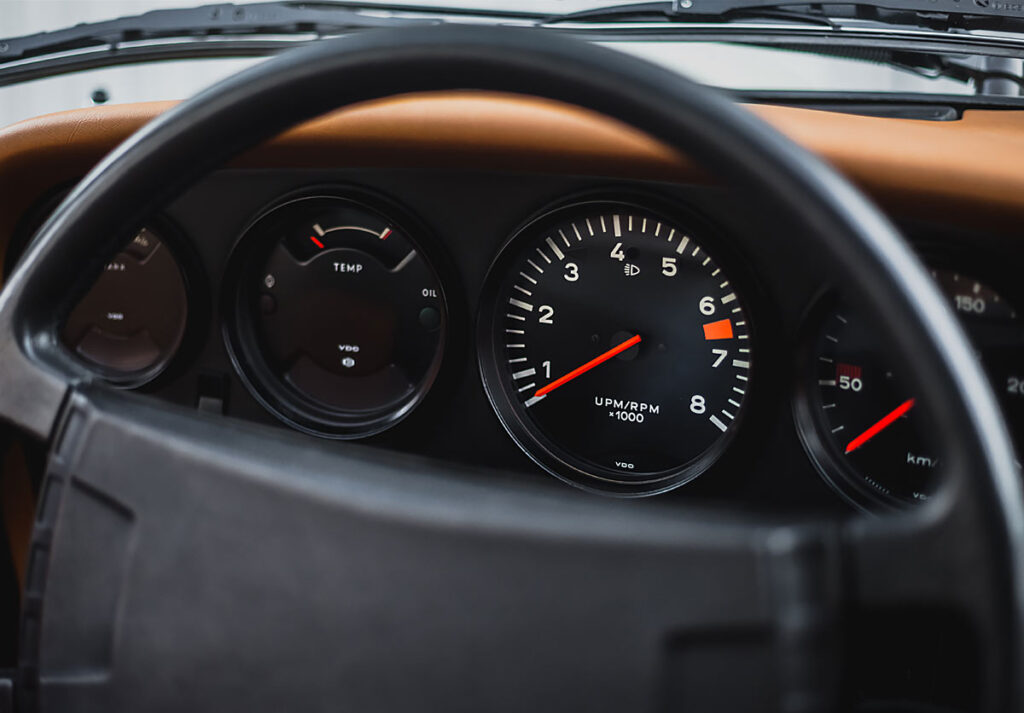 We put some modern technology into the car. The old radio received a bluetooth transmitter we engineered. 
It turned out great.
The project took us two years. We enjoyed working on it and are super happy with the result. The car looks literally beautiful and unique thanks to the color combination. At the end all changes we made looked subtle and right. It's a stock car and a custom build at the same time. Unacceptable for purists but too polite for outlaw freaks. Does it sound like a perfect combination? 
We can help you restore or custom build your car, contact us!